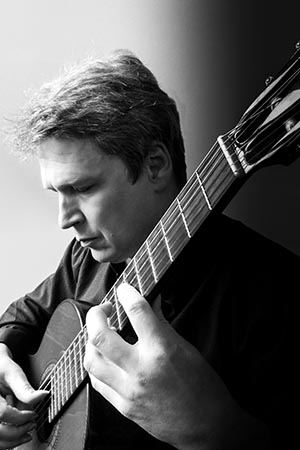 Oleg Boyko borned in 1976 in Mariupol. After ending Chernigov musical college in 1996 entered National Musical Academy of Ukraine, which finished in 2001 (class of the professor Mihajlenko).

From 1995 year actively takes part in international festivals and competitions: Warsaw (Poland, 2 prize), Berlin (Germany, Gran-pry), Parma (Italy,1 prize), Lyon (France, 2 bonuses), Frankfurt-am-Main (Germany, Gran-pry) et al.

Studied at Summers Schools of Bach, Saltzburg (Austria), Dusseldorf (Germany); at High Schools of Music, Frankfurt-am-Main (Germany), Rome (Italy). Studied in master classes of prominent guitarists of the world: Manuel Baruecco (USA), John Willams (Australia), Stefano Cardi (Italy), Carlo Marchione (Italy), David Russel (Great Britain), Aniello Desiderio (Italy).


Oleg actively tours in past soviet countries and Western Europe. His programs includes different styles – from a baroque (J. S. Bach, G. P. Telemann, D. Scarlatti, G. P. Handel) to modern music (J. Rodrigo, F.Kleynjans , R. Dyens, L. Brouwer, N. Koshkin); from Spanish and Latin-American music (I. Albeniz, E. Granados A. Barrios, A. Piazzolla) to jazz and blues.

Performs with different bands, strings quartets, symphonic orchestras. Working as a member of jury of regional and international competitions.

Have recorded 7 solos CDs.

A founder of an International guitar festival. A frequent jury member of the regional and international guitar competitions.

From 2003 year playing on guitar by German master Dieter Hopf – «La Portentosa Grande Furioso».

Presently (from 2000 year) works as a teacher of guitar class in Chernigov music college.