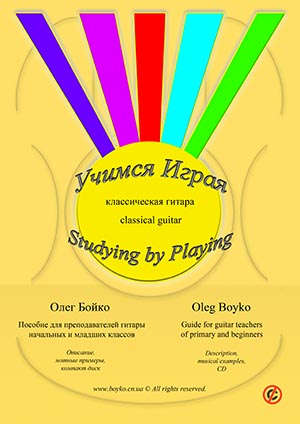 This guide is for guitar teachers and it's aim to turn a complicated initial stage of learning into a fascinating process of mastering an instrument by kids.
The main idea of it is the combination of music playing, development of creative thinking and emotional feeling of music.
What is it meant for? This guide'll help teachers to work from the very beginning and keep their pupils interested and satisfied with the process. So, this manual has about 150 pages, with nearly 80 simple musical examples for solo and duet, as well as trios and quarters are presented in the additional part of the guide. All this pieces are also available on a CD (more than 100 tracks of «live» performing, both in demo variant, I.e. full version and «minus» - it's only an accompaniment without a melody, in different tempos).
Download